Teesside Owner Driver Sprint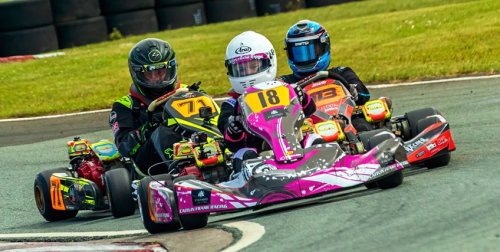 Introduction
In 2019 the Teesside Owner/Driver Sprint was the biggest year yet with an average of 90 drivers at each event, competing in 9 classes across seven grids. Our newest classes grew round on round, with racing becoming more exciting as the drivers gained experience of the long Teesside circuit. NRG Cycles allowed us to share the racing with viewers from around the world by sponsoring our sprint races with a live stream at every round of the summer championship - you can take a look at 2019 racing here > Alpha Live. NRG Cycles will also be sponsoring the live stream for 2021.
---
Classes
Bambino Comer C50
Cadet Honda 200 and Honda 160
Junior Pro Kart Honda Pro Extreme 200
Senior Pro Kart Honda Pro Extreme 200
Junior and Mini Rotax
Senior Rotax
Book online via this link.
Make sure that if you already have an account from previous years, that you use that to log back in and select this year's class to register - DO NOT create a new account. If you would like to change your race number, please enter a unique number and if it is available you can use it for this season.
If you have any problems please send us a message.
You can keep up to date with all the information on our Facebook group at https://www.facebook.com/groups/TeessideOwners/
---
Dates
The 2021 race calendar has had a delayed start with races kicking off from April. Practice is the day before each round.
25th April 2021
23rd May 2021
27th June 2021
25th July 2021
21st and 22nd August 2021
26th September 2021
24th October 2021
28th November 2021

---
Itinerary
On a normal championship race day, the itinerary will be as follows. All times are approximate and any variation in these times will be advertised at the driver's briefing if possible, or over the paddock, PA system and/or on our WhatsApp Group.
Gates open 07:00
Signing on 07:30
Briefing 0800 (pit bend)
Practice 08:15-09:00 (not timed) 10 minutes per class
Qualifying 10:00
Heat 1 11:00
Heat 2 13:00
Heat 3 14:00
Final 16:00
Presentation 17:00 (podium)
---
Championship Regulations
The goal of these regulations is to provide guidance for both the general safety of any meeting and also the format the meetings will take. As the circuit operator, we will adhere to the safety guidelines of the National Karting Association. We reserve the right to change these regulations as we see fit at any time giving notice where possible via social network sites.
Teesside Sprints will be held over 9 rounds in February through to November with 7 rounds to count. Entry fee for each meeting for all classes is £60 - members race for a discounted rate of £55. All drivers are encouraged to provide their own MyLaps transponder. There may be transponders for hire at the circuit at a cost of £10 per race day. Lost or damaged transponders may be charged to the entrant at up to a replacement cost of £200 +VAT.

---
Frequently Asked Questions
How do I enter?
It's simple to enter each round by following the link below and creating an account using your Facebook account or your email address. Then simply log in and add yourself to each round to let us know that you are coming.
When can I enter?
Entry for each season opens on February 1st - online entry only.
How much does it cost?
Entry is £60 non-member or £55 member per round - hire of a transponder for the day is £10.
How do I pay?
All payments for the race day and practice the day before is online - book, pay and sign on online
Can I enter someone else?
Every driver needs their own account however families can set up one main account that then manages the other accounts with only one set of log-in details.
https://teessideautodrome.alphatiming.co.uk/register/series
Can I use my normal race number?
As long as another driver hasn't already chosen 'your number' you can have it as your race number - unfortunately, the system will not allow two drivers to race the same number, so if it's already taken you will have to choose another number. By becoming a member you can reserve a race number before the beginning of the season. Memberships are available to purchase online in your account.
Does my race number board have to be a certain colour?
Each class has regulation number board colours, the specify the colour of the background and the number. You may have to change your race number if it is not available for our championship. We advise that you leave the number panel blank so that additional number stickers can be stuck on at different circuits.
Photographs by Gordon Welsh