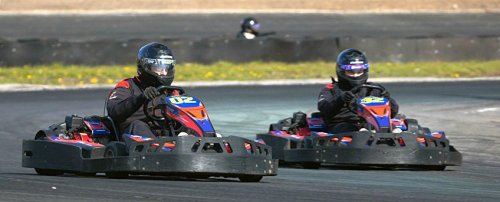 Our race karts are lovingly maintained
Teesside Autodrome operates seven days a week with different activities happening on different days. Mondays and Tuesdays are all about cars and bikes, with testing and track days; but from Wednesday to Sunday, karting rules the roost.
On a typical weekend, we will run an average of 15 Iron Man races with between 15-35 drivers from all over the country. That's a staggering 1,200 individual drivers racing every month, and the numbers keep adding up. Over 2,400 minutes of endurance racing takes place over a busy month, 60 sets of trophies are given out, and 200 early-bird breakfasts are served.
All this is made possible by our dedicated staff, who arrive an hour before the first race to get the karts prepared and ready for our drivers. In short, this means lifting and moving 40 karts, checking the pressures of 160 tyres, and oiling 80 chains before each kart is then fuelled up and driven to the pits.
All the karts are on a tight maintenance schedule, overseen by our three mechanics. Each kart is taken out of service every two weeks and undergoes a full inspection, with all moving parts tested to make sure they are in tip-top working order. Should anything be found to be amiss, it is replaced. Even the chassis is thoroughly checked to ensure that it performs at its best, making sure the kart handles as a proper race kart should do.
We carry all the spares and tyres to maintain such an extensive fleet, which operates from our circuit workshop and Technical Centre.